Irish political parties in five-way election debate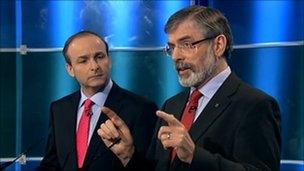 The leaders of the main Irish political parties have taken part in the first five-way debate of the 2011 general election campaign.
The debate was broadcast live on RTE's Frontline programme.
Fine Gael leader Enda Kenny, Micheal Martin of Fianna Fail, Labour's Eamon Gilmore, Sinn Fein's Gerry Adams and John Gormley of the Greens faced questions from a live studio audience.
Economic issues and job creation dominated the proceedings.
The Irish general election will take place on 25 February.
Gerry Adams faced criticism from the other party leaders over Sinn Fein's economic policy.
Mr Adams pledged his party will not put "one red cent" into the Irish banking system until it is restructured.
He also said Sinn Fein will scrap the Universal Social Charge, a new tax introduced by the Fianna Fail-led government in last December's budget.
However, Michael Martin said Mr Adams would have to be a "magician" to pay for services without making cuts.
Eamon Gilmore accused Mr Adams of "fairytale" economics.
However, Mr Adams said his party's track record in Northern Ireland proves it is capable of carrying out reform.
The leaders were asked if they would be prepared to help struggling homeowners in the same way Fianna Fail and the Greens bailed out the banks.
Fine Gael said it wants to increase mortgage interest relief to 30% in order to make sure people do not lose their homes.
The Labour Party said it will guarantee that homeowners do not lose their properties during the recession, providing they are making a reasonable effort to repay their mortgage.
The debate also turned to the banking crisis.
Enda Kenny insisted Anglo Irish Bank and Irish Nationwide will be wound down by end of year if Fine Gael is elected, and that EU and IMF deal, put in place last year, would be renegotiated immediately.
Mr Gilmore said the decision by Fianna Fail and the Green Party to nationalise bank debt was an act of "robbery" and also pledged to renegotiate the bail out deal.
According to opinion polls Fine Gael and Labour are likely to form the next government.
But, Green Party leader John Gormley warned both parties will find themselves in a "straight-jacket" and will be forced to accept the EU bail out and make unwanted cuts.
Related Internet Links
The BBC is not responsible for the content of external sites.