18 tonnes of toxic sludge removed at Crumlin fuel plant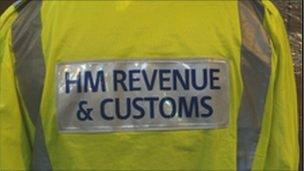 Eighteen tonnes of toxic sludge has been removed from the site of a fuel laundering site in County Antrim, HM Customs has said.
Vehicles were seized along with a large quantity of fuel at the site in an industrial area of Crumlin on Monday.
A man was arrested and released on bail. Customs said the plant could have laundered 6.2m litres of fuel per year - an annual tax loss of £4m.
Last week 2,000 litres of toxic waste was found at another plant in Toome.
Customs' Mike Connolly said the toxic sludge was "an environmental time bomb waiting to go off".
"The red diesel is put through a filtration process and the bleach, or whatever chemical or acid they're using to remove the colouring from the red diesel after it's been through the filtration process, that's discarded into the local streams, rivers, into the local environment," he said.
Mr Connolly conceded there was a market for the illegal fuel, but said people were often not aware of the damage it did.
"Everyone looks at it and thinks this is a bargain, but it's not a bargain," he said.
"There's acids, chemicals still remaining in the fuel - you may think you're getting a bargain but further down the road your engine will give in."