Paisley has pacemaker fitted after getting ill in Lords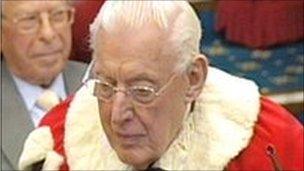 Former DUP leader and first minister Ian Paisley has had a pacemaker fitted after he became ill at a House of Lords meeting on Wednesday night.
The 84-year-old, who is now Lord Bannside, was initially treated by Parliamentary paramedics and then at St Thomas' Hospital in London.
His son, Ian Paisley Junior, said medics realised he needed a pacemaker.
"It was very successful, he had it fitted and was discharged on Friday," Mr Paisley Jnr said.
"He came home at the weekend, and typical of my dad, he was back at his desk on Monday."
"He was even joking the other day that he was turbo-charged so he's doing very well.
"The staff at St Thomas' and our NHS system were exemplary, they were able to diagnose the problem immediately and within 40 minutes had a solution and fitted it within a day, so we are eternally grateful to them," he said.
Mr Paisley Jnr said his father had been at a cross-bench meeting where Ed Milliband had been speaking on Wednesday night.
"Obviously I don't want to joke that Ed Milliband made my father sick, but after that meeting my father was feeling unwell.
"They realised he needed assistance and the medical staff at Westminster Palace initially helped him.
"He didn't faint or collapse or anything he just felt groggy and unable to perform, he had to sit down which is very unlike my dad.
"It was a case of he knew he needed help and he got that help, he had the pacemaker fitted which takes places without local anaesthetic, he was discharged on Friday and flew back home on Sunday and he's now back at work in spritely form."
In 2003, in the months after the Assembly election, Mr Paisley struggled with ill-health. Despite party denials he was gravely ill, he admitted in 2004 that he had "walked in death's shadow".
Speaking on Good Morning Ulster his son said that the pacemaker he had been fitted with should last for about 15 years.
"That should take him to 100, and aside from that he's in rude health," he said.
"My father may joke that he's been turbo-charged, and that is effectively the case, it gives an electric pulse to his heart when it needs to be reminded to beep in the appropriate way and at the appropriate rhythm.
"All the kind wishes people sent to him and our family are greatly appreciated and we thank everyone for their prayers."