Families moved as homes flooded in Londonderry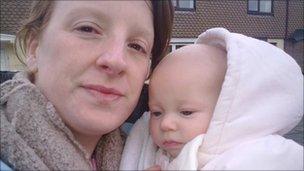 A clean-up operation is under way in Londonderry after a pipe burst, flooding eight homes in the Waterside.
A number of residents in Lincoln Courts, including a pregnant mother and an elderly woman, had to leave their homes when the pipe burst at about 0300 GMT on Tuesday.
Resident, Alan Curley, said around 25 people had been affected by the flooding.
"The water was about two feet deep this morning," he said.
"It has come up through the floors and cupboard, and the wooden floors are ruined.
"I wouldn't like to think of the cost of repairing this, it's going to be unbelievable, it's definitely going to cost thousands of pounds.
"It's an absolute disaster."
Northern Ireland Water said they were at the scene of the flooding within an hour of being alerted.
Ian Glass, from the company, said the response time "was acceptable."
"We are currently on site and doing a clean-up operation," he said.
"We are removing the debris and we understand a loss adjuster is on his way from Belfast."
A 'frightening experience'
Jimmy Jones and his wife Fiona, who is four months pregnant, said they have had to leave their home because of the damage caused by the burst pipe.
"We have no electric, no heating and no water," Jimmy said.
"It's awful. I woke up this morning and saw the devastation.
"We just don't know what we are going to do and that's the worst thing about it."
Alana Nutt, whose 72-year-old mother, Betty, was also forced to move from her home, said it was a "frightening experience."
The Fire Service was called to the flooding at about 0245 GMT.
Three appliances were at the scene at Lincoln Courts for four hours, pumping water from the properties.