Father admits child cruelty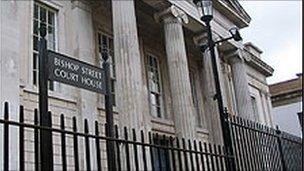 A 26-year-old man has pleaded guilty to a charge of child cruelty against his baby son at Londonderry Crown Court.
The defendant, who cannot be named for legal reasons, admitted shaking his son in 2009.
The court was told that the baby's parents were estranged, and that as a part of his agreed bail conditions the defendant was not allowed any unsupervised contact with his baby.
The defendant was released on bail and will appear in court again next month.