Family held at their Belfast home by gang for two hours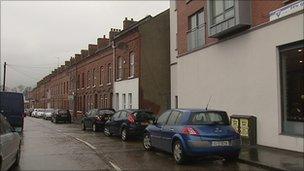 A family has been held hostage by a gang who broke into their home in south Belfast on Tuesday morning.
The family were awoken in their house in Rathdrum Street by three masked intruders shortly after midnight and threatened with sticks and iron bars.
The gang then attacked the 46-year-old father who was later treated for a suspected broken jaw.
The gang held the husband, his wife and three children for two hours before leaving with jewellery and money.