Irish actor TP McKenna dies at the age of 81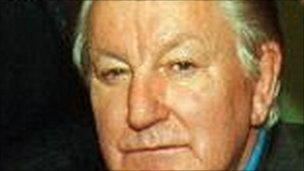 The Irish actor, TP McKenna, who starred in numerous films and TV dramas in a career spanning five decades, has died at the age of 81.
Thomas Patrick McKenna, played everything from a grocer's assistant to the voice of God and this versatility was to be the hallmark of his career.
He was born in Mullagh, County Cavan, in 1929 and began performing at St Patrick's College, where he displayed his talents in a number of Gilbert and Sullivan operas.
McKenna joined the Ulster Bank in Granard, County Longford, after leaving school in the 1940s, but despite six years in finance including a switch to Dublin, he was unmoved in his determination to be a full-time actor.
Indeed, it was when he was offered a transfer back to Killeshandra in Cavan that he decided to leave the bank and join the renowned Abbey Theatre.
McKenna undertook more than 70 stage roles at the Dublin theatre between 1953 and 1962 and was made a life member in 1968.
He also performed with the Royal Shakespeare Company and the Royal National Theatre Company among others.
Film was a natural home for his talents and he played alongside some of the most famous actors of the 20th Century on the big screen including Dustin Hoffman, Gregory Peck and Robert Mitchum.
But he was equally adept at captivating audiences on the small screen, with roles in such acclaimed series as The Saint, Jason King, Dr Who, The Sweeney and Minder.
McKenna starred in The Avengers on three different occasions, opposite Honor Blackman, Diana Rigg and Linda Thorson.
He was also a staple of Irish domestic dramas, featuring in the likes of Fair City and Ballykissangel in his latter years.
The Northern Irish actress, Roma Tomelty, said McKenna was one of a "new breed" of Irish actors who rose to prominence in the 1960s.
She said he was "special" and had produced "electrifying performances on many occasions".
"He was one of a new generation of Irish actors with this fierce, wonderful energy, but still in the old natural tradition, he had a blend of both," she added.
"He was able to take it across the water and Irish actors lost through TP McKenna this notion of paddywhackery, of the stage Irishman, he had that vision."
The Cavan man was to direct theatre productions of The Playboy of the Western World, Shadow of a Gunman and The Death and Resurrection of Mr Roche.
However, it is as an actor that he will be remembered, his longevity shown by the fact that he was being chosen for a film role alongside Johnny Depp in The Libertine in his 70s.
McKenna, who died on Sunday following a long illness, is to be laid to rest in Mullagh. He is survived by four sons and a daughter.