Colin Howell denies controlling Hazel Stewart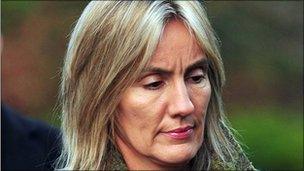 Convicted double killer Colin Howell has denied having a controlling influence over his former lover.
Howell, 51, has been giving evidence for a second day at the trial of Hazel Stewart.
She denies being part of a joint venture to kill his former wife and her first husband in May 1991.
Howell told Coleraine Crown Court he and the 47-year-old accused had been "waltzing in time" and she had always been in perfect harmony with him.
He referred to himself as the "mastermind" of the murder plot.
The defence asked Howell if it was true he had controlled Mrs Stewart.
The barrister said Howell had agreed during police interviews in 2009 that Mrs Stewart was frightened of him that she was "kind and innocent" and easily led.
Howell said he had been agreeing with everything police had said, treating officers like church elders.
He added: "If I had been accused of killing JR Ewing or JFK I would have said that."
He said it later dawned on him that Mrs Stewart was setting herself up to be a victim, but she had never objected to the murder plan.
Howell, said the last thing he wanted to do was "make things worse for Hazel".
But three times he said he and the accused had been "waltzing in time", explaining that he had been the lead, but she had always been in perfect harmony with him and he did not "drag her along the floor".
Howell said it was only two years ago - when he confessed to police about the murders - that he had realised Hazel Stewart was not his responsibility.
The former dentist was also asked whether he agreed with a series of adjectives other witnesses had chosen to describe him.
He agreed that he was outgoing, ambitious, a leader and arrogant.
"My arrogance grew and became a huge problem toward the end, especially before my confession," he said.
In response to whether he was a ladies' man and was aware of his attractiveness to the opposite sex he said: "Only in part because behind it all with most beautiful females and handsome men there's often a great insecurity and low self esteem."
Howell conceded he had been manipulative, merciless, cold blooded and callous.
"What I did 20 years ago was the pinnacle of being callous and that has been hard to live with. My conscience became so crushed and all the things I had built around that, including my image, couldn't cope with that."
But he denied he was psychotic - the assessment of specialist psychiatrist Dr Helen Harbinson who examined him in prison.
"I don't agree with the conclusion of Helen Harbinson or any of the other psychiatrists," he said.
"I believe any human being has potential to do what I did, but I did it - that's what sets me apart from most of humanity."
He faces more questioning on Tuesday afternoon