NI couple's car hit by train at Galway level crossing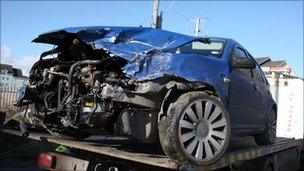 A County Fermanagh couple have escaped uninjured after their car was hit by a train at a level crossing in Galway.
Rachel McClean,19, and Ryan Jones, 20, drove onto the level crossing in Murrough around 1200 GMT on Monday.
Their vehicle was hit by the Dublin train which was en-route to Galway and travelling at 115km per hour.
The front of the car was smashed but the couple were unharmed.
The accident is being investigated by the Railway Accident Investigation Unit and Irish Rail.
Irish Rail said initial indications show that the gates were left open by a previous user.
Rachel, from Lisbellaw, and Ryan, from Lisnaskea, both students at the South West College in Omagh, were on a weekend break in the Irish Republic when the crash happened.
Mr Jones was driving Miss McClean's car and saw the train a split second before she did and threw the car into reverse.
That moved the car a little bit back. The front tyre burst when the train hit them and that may have saved them from being dragged in front of the train.
The engine at the front got ripped off but the couple, although shocked were not hurt.
They were taken to hospital in Galway but were discharged after being examined.
Rachel's father, Willie said it was an "absolute miracle they are still alive".
"I got a text from my daughter on Monday to say their car had been hit by a train," he said.
"My blood ran cold when I read this but I was very relieved when I read that they were ok.
"They cheated death by two inches."