Not enough warning signs - Fermanagh train crash couple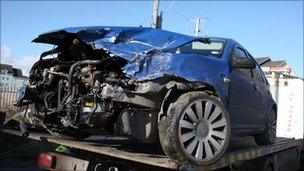 A young Fermanagh couple who escaped injury when a train travelling at over 70 miles per hour hit their car have said the warning signs were inadequate.
Rachel McClean, 19, and Ryan Jones, 20, were on a Valentine's break in Galway when the crash happened at a crossing.
They said a sign in Irish was the only visible warning before the crossing.
"It cleaned the front of the car off - there was bits of bodywork flying everywhere. It was a proper scary experience," Ryan said.
"It looked like a road straight ahead. The fences that were meant to be there were open, so when we stopped at the stop sign the train was about 10 metres to our left doing about 115km an hour.
"By the time we stopped and we got hit it took about a second."
Rachel added: "We pulled up to the stop sign and looked to the left. Ryan looked first and he saw the train coming so he put the car into reverse and got back about two inches and then it just hit us - it was horrible.
"It didn't make any noise at all. I didn't think a train could come along so quietly.
"It was just the shock of it, it just appeared out of nowhere, we had no idea it was there at all. It was already hitting the car by the time I saw it."
"They should have lights and warning signs - even warning signs further back would have helped because we would have been thinking about it. It should be impossible for what happened to us to happen."
Irish Rail said initial indications were that the gates had been left open by a previous user.
The accident is being investigated by the Railway Accident Investigation Unit and Irish Rail.
The vehicle was hit by the Dublin train which was en-route to Galway. The front of the car was smashed but the couple were unharmed.
Ryan said on the way down to the crossing there was a sign in Irish and a caution in English which was hard to see.
"There's a stone wall the length of the track and trees so you couldn't see it, you couldn't see the tracks because it was kind of raised up.
"By the time you got up on top of it then you could see the tracks and that was obviously too late," he said.
"Even a symbol that would have been universally known instead of in just one language, like a railway crossing sign or danger or automatic barriers (would have helped)."