Council workers attacked in Derry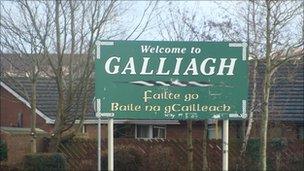 Council workers trying to repair vandalised lights in Londonderry have been attacked with stones and bottles.
The employees, who were working in Linear Park in Galliagh on Tuesday, were forced to leave the area.
The Mayor of Derry, Colum Eastwood, condemned those responsible.
"It's important to say that Galliagh is not a no-go area but the kids who did this need to realise they are giving the place a bad name," he said.
Mr Eastwood also said it was not the first time such an incident had happened in the Derry estate.
"A number of weeks ago BT staff were also threatened," he said.
"The people who are doing this are also threatening local people with violence and intimidation."
Galliagh community worker, Peter McDonald, said there was "an element" in the community "hell bent on destruction".
"It has been quiet in Galliagh lately but this must stop," he said.
"There is no doubt there is vandalism here but it is no different from anywhere else. Galliagh is not a bad place to live. Ninety per cent of the young people are good."