NI unemployment figures rise by 600 in January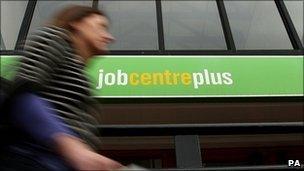 Unemployment in Northern Ireland has risen once more.
The number of people claiming unemployment benefit increased by 600 in January to a total of 59,100.
This latest monthly increase in Northern Ireland was the joint largest among the 12 UK regions.
In the past year the jobless total in NI has risen by 3,600 or 6.5% while over the same period unemployment in the UK as a whole has fallen by almost 10%.
Almost one in four young people aged between 18 and 24 who are looking for a job are now unable to find work.
Commenting on the figures, Enterprise Minister Arlene Foster said: "The latest labour market indicators report an increase in the unemployment rate to 8.0%.
"Clearly the Northern Ireland labour market continues to face significant pressures and the figures released today highlight the necessity of rebuilding the economy in the aftermath of the recession by developing employment opportunities."
The minister said she was "very aware of the pressures and strains that unemployment is placing on families throughout Northern Ireland".
"It is imperative that action is taken to ensure that those who are currently unemployed are provided with opportunities to return to employment.
"That is why, as part of the draft budget, we are working to introduce a short-term employment scheme to help maximise employment opportunities."
"We must also work toward rebalancing the economy over the medium to longer term in order to ensure that the recovery is sustainable."