Colin Howell admits flicking wife with live cable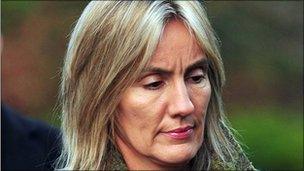 Double killer Colin Howell has said he may have "flicked his wife's back" with a live cable while she was in the bath.
Last week a friend of Lesley Howell's told Coleraine Crown Court Mrs Howell had told her of the incident months before her death.
Howell, 51, has been giving evidence for a third day at the trial of his former lover Hazel Stewart, 47.
She denies being part of a joint venture to kill his former wife and her first husband in May 1991.
The bodies of Trevor Buchanan, 32, and Lesley Howell, 31, were found in a fume-filled car in Castlerock.
Howell, a former dentist and lay preacher, has already pleaded guilty to murdering them and was jailed for 21 years.
He had previously denied the bath incident in police interviews.
However, on Wednesday he said: "I saw the opportunity to shift the balance of power in our relationship."
He admitted telling a doctor in prison that in the months before he murdered his wife he wanted to be released from her control but saw no way out.
However, he denied having thought about killing her months before he raised the issue with Mrs Stewart.
Mrs Stewart's defence barrister quoted sections of an interview Howell gave to a prison psychiatrist following his arrest in 2009 in which he claimed Mrs Howell was a bad mother.
Asked whether the account he provided was correct, Howell said while the incident in which she collapsed drunk was "quite regular" in the months prior to the murders, it had only started happening after she discovered his affair with Mrs Stewart.
"I came home from work one day and Lesley had drunk too much wine and was unconscious on the floor and had vomited," he told the jury.
"I thought it was blood at first, but it was red wine and Daniel (his son) was standing holding a half-full bottle of milk.
"Before the affair she wasn't like that," he said.
"That one incident, to me, was a point that I realised I had caused her so much pain and distress, I acknowledged it was me who had done it to her.
"She just couldn't cope with the pain I had caused with the affair."
Weeks after the drink incident, Howell gassed his wife and Mrs Stewart's policeman husband Mr Buchanan, before making it look like they had died in a suicide pact.
Howell also talked about how his eight-year marriage steadily "crumbled", in part due to the pain of her three abortions prior to their wedding in 1983.
The devout Christians chose to terminate the unborn children as they did not want to admit to having sex before marriage.
The former dentist admitted in court he had another affair before his relationship with Hazel Stewart.
He said Lesley had never found out about the affair with a woman he worked with at Queen's University, Belfast.
Earlier in his testimony Howell told the court he started "looking around" for other women and, in an interview with the prison psychiatrist in 2009, claimed he was "ripe for the picking".