Dentist Colin Howell denies murder cash motive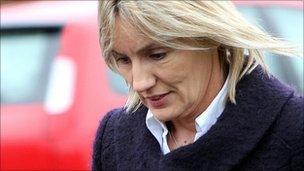 Money was the only reason Colin Howell murdered his wife Lesley, a lawyer for his former partner has claimed.
The barrister claimed that the dentist gained £414,000 from his wife's will, life insurance, an endowment payment and cash from her late father's estate.
Howell has been giving evidence against former lover Hazel Stewart, who denies the murders of her husband Trevor Buchanan and Lesley Howell in 1991.
Colin Howell has already been sentenced for both murders.
Paul Ramsey QC, defending Hazel Stewart, put it to Howell, 51, that all his financial problems had been resolved with the death of his wife.
But the dentist denied the suggestion and claimed he received only £212,000 as a result of his wife's death.
Hazel Stewart's lawyers reject Howell's claim that she plotted with him to kill his wife and her husband Trevor Buchanan 20 years ago so they could be together.
The bodies of Trevor Buchanan, 32, and Lesley Howell, 31, were found in a fume-filled car in Castlerock.
Howell, a dentist and lay preacher, has already pleaded guilty to murdering them and was jailed for 21 years.
Mr Ramsey cross-examined Mr Howell about his financial affairs prior to the murders and alleged he was short of money with his new dental practice running at a loss.
The dentist admitted he had financial worries but insisted he was not on the verge of bankruptcy, claiming that his cash flow problems were the result of expected outgoings from buying a new home and business, and due to delays in the NHS paying out between £15,000 and £18,000 owed to him.
Howell also denied that he rowed with his brother-in-law over claims that he was deliberately drugging his wife so that he could have late-night meetings with Hazel Stewart.
Just after the death of her father Harry Clarke, Howell had been with his wife Lesley and her brother Chris Clarke, who alleged he was feeding tablets to his sister.
It was on a night when Mrs Howell became drunk very quickly, Howell said.
But the dentist denied there had been any confrontation.
He told the jury: "I did not tell him I was giving her tablets. He made that up."
Howell confirmed to the jury how he would leave the house in the middle of the night to have sex with Hazel Stewart when her husband, Trevor Buchanan, was away on police duties.
He said Mrs Howell would have taken red wine and temazepam to help her get to sleep, claiming it was part of a pattern that had developed when he and Hazel Stewart would meet up.
He said she would open the back window of her house and let him in after they first made telephone contact.
Howell admitted that it meant his four children, Matthew, then aged 6, Lauren, 4, one-year-old Daniel and baby Jonathan, only months old, would have been left on their own.
He denied blocking their bedroom door.
Howell told the jury that he believed Mr Buchanan was a bad husband for Stewart because he had been leaving her on her own to do his police work.
He described one night when Mrs Howell was out of bed when he returned home around 0300. Howell said it was dark and she was in the kitchen.
When he saw her, he told the court, he started humming and went over to the sink, where he put the kettle on.
He said he told Mrs Howell he had been out for a walk and could not sleep, a story he said he invented on the spot.
Howell told the jury: "I didn't care. I was so self-centred, so selfish."
But he denied claims that he deliberately gave his wife the drugs, saying she took them and the wine herself and he encouraged her because it suited his purpose.
Howell said that, as a dentist, he had access to temazepam and Mrs Howell had asked for the tablets.
He said Mrs Howell was a state registered nurse who knew how to medicate herself.
He said he gave her the temazepam, but did not force her to take them or put them into her mouth.