Report predicts 2,540 NI families to lose their homes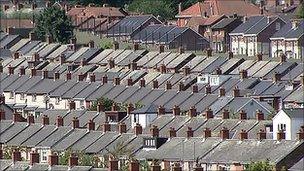 A total of 2,540 families in Northern Ireland are forecast to lose their homes this year, according to a new report.
HML manages £40bn of mortgages and predicts almost 1% (0.83%) of mortgaged homes in NI are likely to be repossessed, a rate worse than any other UK region.
It expects 33,250 home repossessions in the UK during 2011.
This forecast is below the total of 36,300 repossessions last year.
The group said the higher level in Northern Ireland reflected a drop in house prices by more than 10% in the region during the past year, it also highlighted the recession in the Republic of Ireland.
Wales is also expected to have above average repossession rates at 0.37% of all mortgages. London was forecast at 0.34% and the West Midlands and North East both at 0.33%.
The report said the proportion of people losing their homes was likely to be lowest in the South West at just 0.18% of mortgaged properties.
HML analysed data on 320,000 mortgages in the UK and said repossessions were likely to fall in the first half of 2011 to 15,557, before rising to 17,700 during the second six months.
It said the number of people who lost their homes looked set to rise again in 2012, with between 35,000 and 40,000 properties likely to be repossessed that year.
Commenting on the report, Neil Warman, chief commercial and finance officer of HML, said: "Despite the challenging economic environment, the downward trend in repossessions we saw last year is set to continue for the first half of this year.
"However repossessions will then begin to rise during the second half as a number of macroeconomic factors start to impact on homeowners and influence lender behaviour.
"Of particular concern this year will be the impact of rising inflation and interest rates on hard-pressed homeowners and the effect of continuing job losses.
"However, these are unlikely to feed through into increased repossessions during the early part of this year."
HML's forecast for 2011 is significantly lower than the Council of Mortgage Lenders' prediction that 40,000 homes will be repossessed this year.
The HML group is a leading mortgage administration firm in the UK, with more than 20 years in the business.