Arlene Foster defends cash grants to Allen and Overy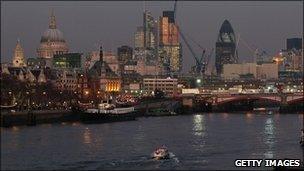 NI Enterprise Minister Arlene Foster has said global law firm Allen and Overy can spend Invest NI grants how they wish.
The company announced earlier this month it would move 180 back office jobs from London to NI.
The UUP has criticised its plans to pass grant money of £8,000 per job on to staff as an incentive for them to relocate to Belfast.
Mrs Foster said she would not be "changing the rules" on such grants.
"The cost was not the only reason why Allen and Overy came to Belfast and if they want to use that money in that way, it is entirely up to them," she said.
Allen and Overy has told staff that its aim is "to pass any financial benefits received from the government" to those who take up the offer.
The UUP said the plan to pay staff could mean grant money paid out by the Stormont executive is being used to prevent local people filling some of the jobs.
Ulster Unionist finance spokesman David McNarry said: "These are jobs for Northern Ireland people and that is why we are paying the money out of the Northern Ireland purse."
But Mrs Foster said Allen and Overy had to satisfy the government agency that it had met its conditions.
"They only get the money from Invest NI when they have complied with those conditions," she said.
"They don't get the money up front and I think that is an important matter to take into consideration."
She said Invest NI had been in competition with 20 other countries for the project which she said would offer job opportunities to people living in Northern Ireland and those who wanted to "come home" after leaving "in the 1980s and 1990s".
Allen and Overy is offering staff in London first refusal on filling the jobs and if they choose not to relocate, they face losing their jobs.
The firm told staff that, although Belfast was not "the cheapest option", the quality of the city and the government incentives made it a "viable and attractive option".
Invest NI defended its system of awarding grants.
The agency's director of international investment Bill Montgomery said companies could use the money "as they see fit" as long as they were "fulfilling the project, employing the people and meeting their targets".
"During the discussions with the company we never mentioned, or talked about any money being used as a direct incentive to relocate," he said.
Economist Philip McDonagh said anyone who did relocate from London would help the Northern Ireland economy because of the multiplier effect attached to their income.
"They bring with them their salary and their spending power," he said.
"They will be looking for accommodation. They will spend their salary, a good bit of it in the local economy, so there is a genuine net contribution to the NI economy."
In addition to the 180 jobs it is relocating from London, Allen and Overy intends to create 317 Belfast jobs over the next three years which would attract a total of £2.5m in grants.
The company, which had a turnover of around a £1bn last year, confirmed it did make the relocation offer to staff. So far, it says it does not know how many people will be taking up its offer.
Related Internet Links
The BBC is not responsible for the content of external sites.