Ryan Leslie guilty of murdering baby son Cameron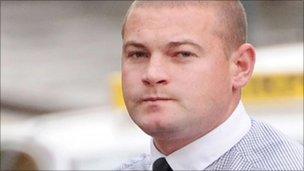 A jury has found a 26-year-old man guilty of murdering his baby son.
Cameron Jay Leslie was 14-weeks-old when he died in hospital on 6 September, 2008. He had suffered severe injuries to several parts of his body.
On Wednesday, a Belfast Crown Court jury found his father Ryan Leslie guilty of murder and causing grievous bodily harm.
The judge told Leslie, of Ballyvesey Green in Newtownabbey, that he had "brutalised and murdered" his son.
Leslie was given a mandatory life sentence and his tariff will be set at a hearing on 18 March.
During the trial, the court heard evidence that Cameron's death was due to his brain swelling up so much that it cut off the oxygen supply to his brain stem.
Deputy State Pathologist for Northern Ireland, Dr Peter Ingram told the jury that he had uncovered numerous bruises to both of Cameron's arms, his legs, torso, throat and chin.
The doctor also uncovered a total of 14 rib fractures, all of which were "typical of injuries seen in cases of child abuse".
Speaking outside the court, Cameron's mother Sheree Black said she had "mixed emotions" at the jury's verdict.
"I will never, ever, forgive Ryan Leslie for what he has done and I will never ever forget it," Miss Black said.
Asked if the verdicts would bring any closure for her, she replied: "Hopefully from today that will be something to look forward to but there will always be a hole in my heart where Cameron was."
The judge told Leslie: "Your defence was based on the propositions that you were a victim wrongly accused and also a grieving father who deserved sympathy.
"But the truth is you brutalised and murdered a 14-week-old baby - your son. And for that I sentence you to life imprisonment."
The officer in charge of the investigation, Detective Superintendent Jonathan Roberts, said his thoughts were with baby Cameron.
"It is a tragedy that his young life was ended so brutally by the one person who should have been his protector," he said.
"There are no winners in this case and the detectives involved in the investigation into Cameron's death would like to extend their sympathy to the entire family circle. They have a heavy loss to bear.
"From a professional perspective, it is gratifying that we have been able to secure a murder conviction in a type of case where convictions for less serious offences are often more prevalent."