Blackmail accused seeks bail over son's TV debut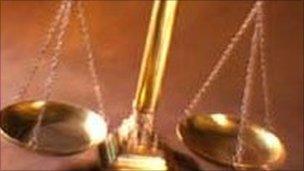 A Belfast man accused of blackmailing a businessman is seeking temporary bail so his son can take part in a TV dance competition, the High Court has heard.
John Patrick Clarke's application for bail came as it was disclosed that police have warned a witness in the case they are under threat.
Mr Clarke, 35, of Ardglen Place is accused of a plot to menace the alleged victim into handing over £11,000.
The judge adjourned the application for medical reports.
According to the prosecution, men claiming to be republican paramilitaries targeted the businessman, who can only be named as Witness A by court order.
They threatened to subject him to a punishment shooting if he did not supply the cash, it was claimed.
The alleged victim has been put on a witness protection scheme after co-operating with police.
Three men have been charged following an operation which involved a swoop on the city's Markets area last September.
Mr Clarke, who faces two counts of blackmail, was arrested two months later.
In court on Wednesday, he sought temporary release to look after his 12-week-old child while his partner accompanies an older son to London for filming of the Sky Television show, "Got To Dance".
Ian Tannahill, prosecuting, said police had confirmed his involvement with the dance team.
But he pointed out that Mr Clarke had recently applied for compassionate bail due to his partner's ill-health.
Mr Tannahill said: "This is a man who has been repeatedly viewed by the court as some who faces obviously very serious charges and that there is a risk in relation to witnesses which would be further offences."
Although the alleged victim is now in a witness protection scheme, the court was told that another witness has now made a statement.
Mr Tannahill said police have served that person with a warning that they are under threat.
Defence counsel Sean Devine argued that no other family members were in good enough health to look after Mr Clarke's family during the trip.
With the prosecution confirming that an investigation was underway into money laundering allegations linked to Witness A, Mr Devine claimed his credibility was "shot to hell".
He added: "The complainant in this case may either be sitting in the dock beside him (Mr Clarke) or else be facing very serious charges in relation to money laundering."
The judge adjourned the application until full medical details could be provided on all relatives of Clarke and his partner.
Mr Justice Treacy said: "I find it incredible that there is not one member of the family who would be available to look after this 12-week-old child."