Referendum on same day as NI Assembly election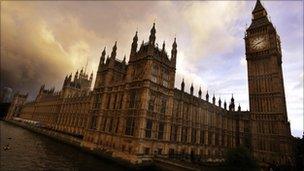 A referendum on changing the voting system for general elections will take place in May, on the same day as the Northern Ireland Assembly elections.
The new laws would also see the number of MPs being cut, with Northern Ireland expected to lose three seats.
The legislation was approved in a late night sitting of the House of Commons after the House of Lords had tried to amend the plans.
Ministers had to get the bill on to the statute book before half-term recess.
This gives the Electoral Commission time to plan for a referendum on 5 May.
On that day, voters will be asked if they want to drop the first past the post system in favour of the Alternative Vote which would see candidates ranked in order of preference.
The reduction in MPs is part of the government's plans to change boundaries so that MPs broadly represent the same amount of voters.
The government want seats to have an electorate of around 76,000 a figure that exceeds most seats in Northern Ireland.
Belfast's four seats are all below this figure and it seems likely that one seat in the city will go.
The SDLP and the Alliance Party have some misgivings about plans to reduce the number of MPs but are in favour of changing the voting method.
Both parties think the change is fairer and would give voters a greater choice. The Ulster Unionists and Sinn Fein have said they will study the proposals.
The DUP has criticised plans to reduce the number of local MPs and have questioned the need to hold a referendum. The party said the poll is irrelevant and a waste of money.
The Boundary Commission is expected to present their proposals in 2013 in time for the next general election in May 2015.
It seems likely that if the Westminster constituencies, change the Northern Ireland Assembly boundaries will also be modified.
The assembly uses the same geographical constituencies and there is a strong argument to keep the boundaries in line with Westminster .
May's assembly election will use the existing boundaries, but it seems likely that the planned changes at Westminster will heighten calls to reduce the number of assembly seats and cut the number of MLAs.