Loyalist Mark Harbinson's claims pictures 'unsolicited'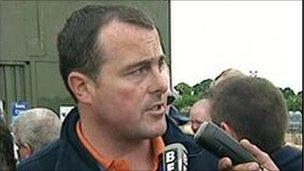 County Antrim loyalist Mark Harbinson, who is facing sex abuse charges, has claimed a schoolgirl sent him unsolicited topless photos of herself.
Mr Harbinson, of Sheepwalk Road in Lisburn, faces a total of 13 charges, including sexual activity with a child and inciting such activity.
He is accused of sexually abusing two girls and a schoolboy.
He told Craigavon Crown Court he was "broken hearted" by allegations he had sexually abused the teenage girl.
Giving evidence in his defence, the 44-year-old also denied he sexually assaulted another girl and a schoolboy two years earlier in 2007.
Mr Harbinson told the court one of the girls had initially sent a topless picture to his mobile by mistake, even though he told her he "wasn't interested".
He told his defence lawyer the girl apologised in a later text message saying: "Oops wrong person. Or something like that".
Mr Harbinson said he thought he had deleted the picture along with a second topless photo she had sent and a third of her dressed in her bra and top.
However, he said the mobile had been new to him at that time and admitted that police later retrieved the pictures in a folder from it.
The trial previously heard that Mr Harbinson was arrested with the girl in his car on October 26 2009, three days after the topless photos of her were found on his phone.
The three alleged victims were two girls aged 14 and 13 and a boy of 13.
The County Antrim man said the allegations were "terrible" and he was "just utterly devastated".