Belfast nightclub Rain's entertainment licence suspended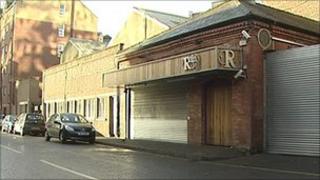 A Belfast nightclub has had its entertainments licence suspended by Belfast City Council for a number of alleged breaches.
Building Control staff carried out a number of inspections at Rain nightclub in Tomb Street.
On one occasion, they found the number of patrons exceeded the limit by more than 300.
The decision to suspend the licence was taken at a meeting of council's Licensing Committee on Wednesday night.
The licence breaches included three separate incidents of overcrowding on 7 November, 2010, 30 January, 2011, and 6 February, 2011.
The suspension of the entertainments licence does not prevent the nightclub from operating.
Rain can continue to serve drinks and will remain open, but cannot put on any form of entertainment, including DJs, until the suspension is lifted by Belfast City Council.
Councillor Christopher Stalford, chairman of Licensing Committee, said: "We take our responsibilities as a licensing and enforcing authority very seriously, particularly as these functions are exercised to ensure public safety in places of entertainment.
"Belfast has a burgeoning night time economy and this is something the council encourages and is extremely supportive of; however, where there is the potential for the public's safety to be at risk and where there have been alleged breaches of any licence, the council will take robust action when necessary."