Colin Howell denies defence claims he is a 'monster'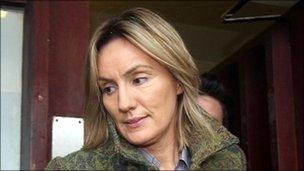 Double killer Colin Howell has told the trial of his former lover that he is not a 'monster'.
Howell has been giving evidence against Hazel Stewart, 47, who denies the murders of her husband Trevor Buchanan and Lesley Howell in 1991.
Howell has already been sentenced to at least 21 years for the murders.
Asked what would have happened had Mrs Stewart's two children seen him entering their father's room he said "the game would have been up".
The 51-year-old former dentist and lay preacher also told Coleraine Crown Court that on Wednesday night he remembered that he had twice told Mrs Stewart of the double murder plot, not once as he had previously said.
He previously told the trial that he had met her at a local beauty spot and handed over drugs for her to give to her husband Trevor.
However, on Thursday he said there had been another meeting prior to this, when he had gone to her home and presented her with the plan.
Howell said at the time Mrs Stewart had not understood the plan or agreed to it because she was scared they would be caught.
Her defence team maintains there was no real plan and that Howell had acted on the spur of the moment, becoming an "unstoppable force" on the night of the killings.
The defence barrister pointed to a police interview in June 2009, in which Howell said he killed his wife spontaneously.
However, the former dentist said he was trying to trick psychiatrists into thinking he acted spontaneously in the hope of supporting a plea of manslaughter on the grounds of diminished responsibility.
Howell said: "I began to deceive myself and even believed this was a spontaneous act that day.
"I was beginning to lie again, beginning to see that if I could get it to be believed this was a spontaneous act that day, psychiatrists would support a psychiatric plea and I would get less time in prison," he said.
The dentist explained that he subsequently had his faith in God renewed and decided that he must take full responsibility by pleading guilty to the murders.
The lay preacher, who referred to the Bible on numerous occasions during his cross examination in the witness box, revealed his legal team had urged him "not to preach".
He nevertheless went on to invoke theology again when explaining why he believed he could not accept manslaughter pleas and the promise of a shorter prison term.
"If you confess your sins Jesus is faithful and just and will forgive your sins and cleanse you from all unrighteousness," he said.
He rejected a claim by a defence barrister that he was a 'monster'.
The defence put a number of other points to Howell which they said showed Hazel Stewart had not acted as his accomplice.
Mrs Stewart had not left the garage door open for him on the night
She had not cleared the garage and his car made a loud crunching noise when it reversed over an object on the floor
She had not drugged her husband because he was able to wake up and struggle with Howell
Howell had written to her days after the murders asking her if she wanted to be with him.
However, Howell told the court: "It could not have happened without her co-operation, she didn't say no, there was no objection to me being there."
The bodies of Trevor Buchanan, 32, and Lesley Howell, 31, were found in a fume-filled car in Castlerock in May 1991.
At the time, police believed they died in a suicide pact.