Carbon monoxide alarms for NI Housing Executive homes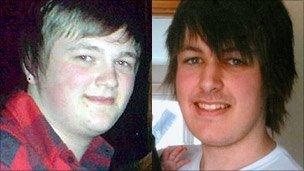 Carbon monoxide detectors are to be installed in almost 3,000 Housing Executive homes in NI.
Social Development Minister Alex Attwood said tenants with a solid fuel glass fronted fire will get a detector.
Mr Attwood instructed the Housing Executive to conduct a safety review after the deaths of two teenagers from carbon monoxide poisoning in Castlerock last year.
They were Aaron Davidson and Neil McFerran, both 18, from Newtownabbey.
Alex Attwood said that by 31 March, 943 of the remaining 3,665 Housing Executive properties with glass fronted fires would have their heating systems replaced.
He said the remaining 2,722 properties would have carbon monoxide detectors fitted and "all will be scheduled in maintenance programmes to have their heating systems replaced next year".
"This is important news for tenants with solid fuel glass fronted fires," he said.
"This type of heating has served Housing Executive tenants for a number of years now.
"While this has been done in a safe environment, there must be recognition that solid fuel, glass fronted fires are one of the at risk appliances in terms of carbon monoxide production."