Cork air crash victims funerals held in Belfast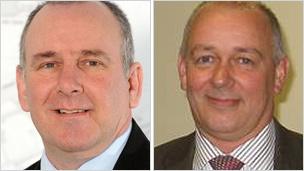 The funeral of one of the victims of the Cork air crash has heard that he was loyal and dedicated to his family.
Captain Michael Evans and wife Andrea were "soulmates", the harbour master of Belfast port told mourners at the Sinclair Seamen's Presbyterian Church.
The funeral of another of the six crash victims, Belfast businessman Richard Noble, took place in the city earlier.
The service at Roselawn crematorium heard that Mr Noble was a "devoted husband and father".
Captain Evans was originally from Hartlepool but had moved to Belfast and was employed as deputy harbour master.
Captain Kevin Allen told mourners at Captain Evans' funeral that the 2009 Tall Ships festival exemplified his colleague.
"Michael worked tirelessly to ensure every marine aspect was right," he said.
"He did it his way with a tenacity, enthusiasm, a huge energy - and through that work he gained the respect of all the organisations he came in contact with."
Among the mourners were Donal Walsh, a student from Waterford, and Laurence Wilson, from Co Antrim, who survived the Manx2 crash.
They embraced Andrea Evans outside the church.
Also there were Lord Mayor of Belfast Pat Convery and Col Michael McMahon, representing President of Ireland Mary McAleese, whose husband's cousin Brendan McAleese, 39, also died.
Following the service, Captain Evans was buried in a private ceremony at Carnmoney Cemetery in north Belfast.
Mr Noble's body was taken from his family home in Jordanstown to Roselawn Crematorium in Belfast.
The service was attended by First Minister Peter Robinson and Deputy First Minister Martin McGuinness.
Originally from Yorkshire in England, the businessman moved to Northern Ireland three years ago to take up a position with the Irish division of a large printing business.
Reverend Dr Brian Black told mourners at the service that it would focus on how the father-of-one "lived his life" and not how he died.
Family, friends and work colleagues paid tribute to a man they described as devoted husband and father, and a competitive and successful businessman with a love of golf and football.
Mr Noble is survived by his wife Allison, their daughter Charlotte and his parents.
Funeral services for two other victims from Northern Ireland were held on Monday.
Brendan McAleese, who was originally from Tannaghmore, County Antrim, owned the Central Laundries business in Cookstown in County Tyrone, and was married with a young family.
Pat Cullinan, 45, originally from Omagh, County Tyrone, was a partner in accountancy firm KPMG in Belfast.
The two crew on board the Manx2 flight from Belfast to Cork also died in the crash.
Jordi Gola Lopez, 31, was from Manresa near Barcelona. His funeral was held in Spain on Wednesday.
The pilot of the Manx2 flight had been working with the airline for less than a year.
His British co-pilot, Andy Cantle, was from the north-east of England.
The 27-year-old was previously a lifeboat volunteer in Sunderland.