Loyalist Mark Harbinson exchanged 1,700 texts with girl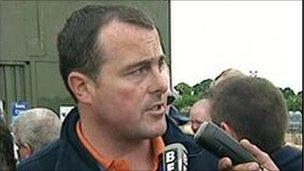 A Lisburn loyalist who had explicit photos of a 13-year-old girl on his mobile has said he was "shocked" to find they had exchanged 1,761 texts.
Mark Harbinson of Sheepwalk Road said it was "ridiculous" to say he had asked the girl to send the photos to him.
He said his eight-month relationship with the girl was "friendly".
He faces 13 charges of sexually assaulting a 14-year-old girl and her 13-year-old male friend at a birthday party in February 2007.
Mr Harbinson, 44, who denies sexually abusing the schoolgirl, including once in his Orange Hall in Stoneyford, where he is a senior bandsman, was giving evidence for a second day at his Craigavon Crown Court trial.
Eleven other charges involve sexual activity and inciting such activity with the 13-year-old schoolgirl between March and October 2009, when Mr Harbinson was arrested with her in his car after police had earlier uncovered the topless pictures on his mobile.
Following his arrest, police also found an explicit picture of the girl stored on another mobile phone.
On Thursday, a prosecution barrister took Mr Harbinson though the allegations against him and his initial response to them when questioned by police.
Mr Harbinson accepted that when the alleged sex assaults occurred he was aged 40 and 42 and that his alleged victims were "two girls, one of 14, another of 13 and a boy of 12".
He also agreed that the charges accused him of indecently assaulting the 14-year-old and the boy and of "engaging in sex with a girl of 13 and having two indecent photographs of a child of 13".
'Monstrous catalogue of lies'
The barrister said the charges involving the younger girl effectively accused him of "having a most intense relationship involving sexual activity over a period of eight months in 2009" during which the pair sent "1761 messages".
"Correct," replied Mr Harbinson, who added later he was "quite shocked when the actual figure was given to me".
"You are accused of sexually abusing three children, two girls and one boy," the barrister told Mr Harbinson, "and you say, do you not, that it's all lies?"
"I do yes," said the defendant, who said that the "three children are telling the most appalling lies" and that two of them at least were telling a "monstrous catalogue of lies" against him.
Mr Harbinson who claimed that there was no truth in any of the allegations, denied that he had a "predilection" to associate with young people, particularly when they "were taking drink".