Monuments for Derry infants buried in unmarked graves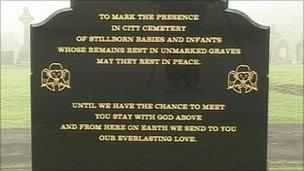 Two monuments to commemorate stillborn babies and infants buried in unmarked graves in the Derry City Council area are to be unveiled this weekend.
The monuments at the City Cemetery and Altnagelvin Cemetery are close to where the unmarked graves are situated.
Councillor Patricia Logue, who helped organise the project, said she hoped it would be some help to the parents.
"I think it will be a small measure of comfort to the parents of the children to know this is happening," she said.
"It is very important for the council to mark the presence on this cemetery of the babies who were buried in these unmarked graves and indeed unconsecrated ground."