A5 farmer told he would have to pay for underpass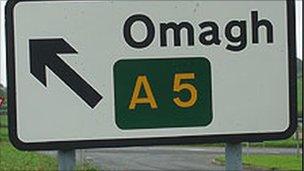 A farmer whose land will be vested as part of the A5 road scheme, has been told an underpass for his cattle would have to come out of his compensation.
On Thursday, members of the assembly agriculture committee visited farmers affected by the proposal.
Work is expected to start next year on the road dualling project which could cost almost £900m.
Farmer David Matthews said the funding for an underpass will have to come out of money given to him to buy new land.
Mr Matthews is going to lose 41 acres from his farm on the Beltany Road between Omagh and Newtownstewart.
He needs to move his dairy cattle around his land to graze them day and night.
When he was told the road would be cutting through his land he asked the project consultants for an underpass.
"Basically we're going to have to pay for it out of the compensation from the rest of the land that they're taking," he said.
"I'm just absolutely shocked that that could be thought of.
"I don't see any way round it - if the Roads Service can't build an underpass it'll not be built."
Four members of the Stormont agriculture committee visited farms along the route of the new road on Thursday.
They met Mr Matthews and other farmers who said their livelihoods are being threatened by the road scheme - one man is losing 71.6 acres.
The A5 project extends from New Buildings on the outskirts of Londonderry to the border with the Irish Republic at Aughnacloy.
Nearly half of the money for it is coming from the Irish Republic.
There were more than 2,000 objections to the project during the consultation period and an inquiry into it is expected to start in May.