Ballymurphy families to meet First Minister Peter Robinson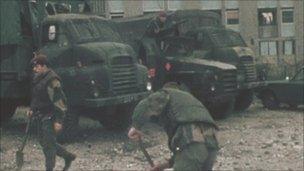 Families of 11 people killed by the British Army in the Ballymurphy area of Belfast in 1971 are to meet the first minister on Friday.
It will be the first meeting between the families and Peter Robinson.
The victims included a Catholic priest and a mother of eight children.
John Taggart, whose father was killed, said the families wanted Mr Robinson to endorse their campaign for an independent investigation.
"It is 40 years ago, but to the families it's just like yesterday. We want an independent investigation, not a Saville-type inquiry," he said.
The 11 victims were killed in August 1971 by members of the Parachute Regiment during the Army's Operation Demetrius, which saw people suspected of paramilitary activity interned.
The families have been carrying on a campaign for an independent investigation into events surrounding the killings.
Mr Taggart said the fact that Mr Robinson had agreed to meet the families was an encouraging sign.
"There has been movement within the unionist community accepting that the state played a part in the conflict. Eleven innocent victims were murdered in Ballymurphy and hopefully there will be an acknowledgement after an investigation that they were innocent."
Mr Taggart said the families have not had any sign that an announcement about an investigation is imminent.
"It's not going to happen overnight, but the families are in for the long haul.
"We don't want to dredge up animosities, we want to know what happened our loved ones."