Buses are withdrawn after Ligoniel robbery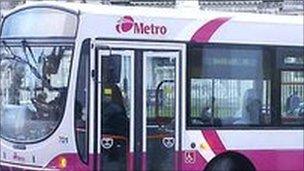 Metro bus drivers have withdrawn services from the Ligoniel area of north Belfast after an armed robbery on Thursday night.
At 1810 GMT, two masked men entered a bus after the driver had pulled into the terminal at Mountainhill Road.
One was armed with a gun, the other a knife. They demanded money and escaped on foot with cash.
The driver was not injured but was left shaken by the incident. Police have appealed for witnesses.
Michael Dornan, a spokesman for the Unite union, backed the withdrawal of services and said he would be meeting with community leaders in the area to discuss the situation.
"Here we have a driver out serving the community, ensuring that people reach their homes safely and is then set upon by these mindless thugs," he said.
"This attack must be condemned by all, especially those from the Ligoniel area, we have now withdrawn the services from that area until we can speak to the local community leaders to get assurances about the safety of our drivers."
Both robbers were described as being aged about 18-19 and were wearing hooded tops.