'Dr Death' visit to Belfast cancelled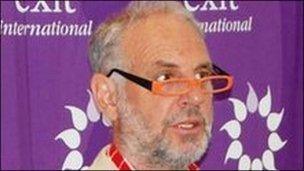 A visit by a controversial euthanasia advocate to Northern Ireland has been cancelled.
Dr Philip Nitschke, dubbed "Doctor Death" by his opponents, was due to arrive in Belfast on Saturday for a demonstration at the Community Arts Forum on Church Street.
But the event has since been cancelled.
Heather Floyd from the Community Arts Forum said they decided to pull out after "careful consideration" regarding the nature of the event.
Dr Nitschke was due to carry out a demonstration on his new "Deliverance" Voluntary Euthanasia Machine.
But Ms Floyd said she was not aware of his plans "at the time of booking".
"The first we heard about the death machine was through a press release that was sent to us. After careful consideration we decided our venue was not suitable for such a high profile public event.
"We also felt it was not suitable for something of this nature," she said.
A spokesman for Dr Nitschke said: "Obviously we are disappointed. The venue did not give us a reason why it pulled out.
"Dr Nitshke was going to go through the process of how the machine works. The machine does not require anyone to use it.
"He was not looking for a volunteer to lose their life."
Dr Nitschke carried out a demonstration of his "Deliverance" machine in Dublin on Wednesday.
The original version was used by four people during Australia's short-lived Rights of the Terminally Act in 1996 and 1997.
Since that time, it has been on permanent display at the British Science Museum in London and has attracted a number of complaints.
Dr Nitschke said the machine provides "a peaceful death" for the seriously ill or elderly, by either the "administration of intravenous or oral drugs, or through the use of lethal gas".
Earlier, it emerged the Justice Minister David Ford had contacted the PSNI regarding Dr Nitschke's visit to Northern Ireland.
However, Ms Floyd said she has had no contact with the Department of Justice or the police and the decision to cancel the event was made solely by the Community Arts Forum.
Related Internet Links
The BBC is not responsible for the content of external sites.