Ex Sussex cricketer Uday Joshi: accused of sex assault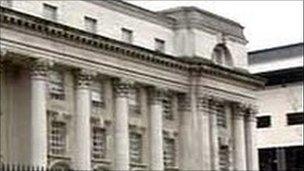 A former Indian cricketer was charged with child sex offences allegedly committed more than 30 years ago after returning to Belfast for a reunion dinner, the High Court heard on Friday.
Uday Joshi is accused of sexually assaulting the 13-year-old son of a cricket club member in the city.
It is alleged the assaults happened in 1979.
Mr Joshi, 66, applied for his bail to be varied so he could move to the United States.
The accused, with an address at Beverley Gardens, Stanmore, Middlesex, represented Sussex during his professional career.
It is claimed he assaulted the teenager in 1979 after he moved to Belfast to coach and play.
The alleged victim also reported having to fight off Mr Joshi when he tried to get into his bed after returning the following year, the court heard.
Although the boy confided in a school friend, wider disclosure was not made until 1998, according to the prosecution.
Crown counsel Nicola Auret said Mr Joshi had returned to India, but was then arrested and charged when he returned to Belfast for a reunion event last November.
A judge was told he is seeking to vary his bail to go to America, where he has obtained citizenship and now regards as home.
Luke Curran, defending, said the accused moved to the US in 1997 following the end of his career.
Mr Joshi, who was not present in court, was unaware police were seeking him until his arrest and could lodge a £40,000 cash surety to secure the variation, Mr Curran added.
Bangor man Robert Hamilton, who got to know the cricketer during his time in Northern Ireland from 1979-82, testified on his behalf.
The judge described the application to be bailed outside the United Kingdom as "if not unique, certainly unusual".
Mr Justice Treacy adjourned the case for a week to allow police to assess the proposed address and for the money to be lodged.
Related Internet Links
The BBC is not responsible for the content of external sites.