Church damaged by car bomb in Newry to reopen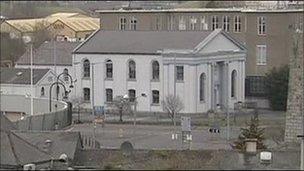 A church, badly damaged in a dissident republican bombing in County Down, will officially reopen on Sunday.
Downshire Road Presbyterian Church in Newry suffered structural damage when a 250lb car bomb exploded outside a nearby courthouse.
Part of an annex to the church was demolished and rebuilt and stained glass windows were reconstructed.
Nobody was injured in the attack on 22 February last year.
Reverend Brian Colvin said the bomb shocked "the whole community".
"Everyone thought we had left those days behind and right across the city there was a lot of anger and frustration.
"But very quickly those feelings were channelled into repair and rebuilding," he added.
The congregation worshipped in the church hall while repairs were carried out.
Former Moderator and minister of Downshire Road between 1973 and 1982, Very Rev Dr Russell Birney, will be guest preacher at a special service on Sunday.
Several gifts donated by the members of the congregation, family and friends will be dedicated.
These include a commemorative stained-glass window marking the centenary of women's work in the congregation.