SF MP Michelle Gildernew calls for McGeough release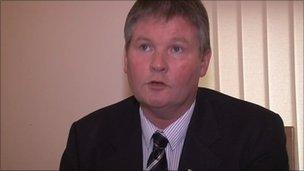 Sinn Fein MP for Fermanagh and South Tyrone Michelle Gildernew calls for the immediate release of former IRA man Gerry McGeough.
Mr McGeough was convicted on Friday of attempting to murder UDR soldier Sammy Brush in June 1981.
She said the prosecution "should not have happened" because the offence happened before the Belfast Agreement.
Mr McGeough's barrister told the court he expected his client to be released within two years.
Ms Gildernew said that Mr McGeough should be released and allowed to return to his family in County Tyrone.
"It is clear that an anomaly has arised around some of these historical cases - a fact acknowledged by the British Government some time ago along with a commitment to rectify the situation."