First Minister claims UUP 'preparing for opposition'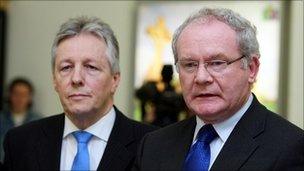 First Minister Peter Robinson has claimed that Ulster Unionists who favour going into opposition have gained the upper hand within the party.
He told party members in Londonderry that UUP leader Tom Elliott was already laying the groundwork for such a move.
Mr Elliott has denied the party is preparing for opposition but has said he wants mandatory coalition to end.
Mr Robinson also called for all parties to allocate ministerial portfolios by agreement rather than by using D'Hondt.
The UUP has clashed with the DUP and Sinn Fein repeatedly in the last week, with UUP health minister Michael McGimpsey branding the executive "dysfunctional".
The Deputy First Minister Martin McGuinness hit back, accusing Mr McGimpsey of undermining the executive from within.
An on Friday evening, in an echo of the famous speech by Liberal leader David Steele, Mr Robinson said his UUP counterpart was telling his party members to "go back to your constituencies and prepare for opposition".
He said such an approach was putting a unionist majority in the executive at risk.
He added: "That is a choice that the UUP are free to make but the message will be clear - only a vote for the DUP can help maximise unionist representation in the executive."
Mr Robinson concluded his speech with an appeal for unionist unity, claiming that his party had much in common with the UUP.
"We should not forget that the real opposition for the DUP in May will not be the UUP but apathy," he said.
"For this reason we should work together to maximise unionist turnout and transfers."