Environmental and wildlife groups call for levy on peat products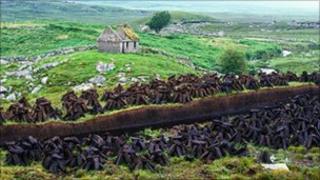 Environmental and wildlife groups have called on the government to bring in a levy on peat products sold in garden centres to protect Irish peat bogs.
They said the levy of about £1 on a regular-sized bag of peat-based compost would encourage consumers to use environmentally-friendly alternatives.
The majority of peat sold in the UK is imported from Ireland and the Baltic countries, where extraction can damage wildlife habitat.
A wide range of wildlife including butterflies, dragonflies and insect-eating plants live in peat bogs, which take thousands of years to form.
The bogs are also natural carbon stores and the extraction and use of peat for compost in the UK leads to an estimated 630,000 tonnes of carbon emissions a year, equivalent to an extra 300,000 cars on the roads.
In the UK, peat bogs hold almost four times as much carbon as forests.
The groups, including the RSPB, the Wildlife Trusts and the Irish Peatland Conservation Council said government efforts to phase out peat from garden products over the past 10 years had failed.
The Department for Environment, Food and Rural Affairs is currently consulting over a new voluntary initiative to phase out horticultural peat over the next two decades.
An RSPB report said this would not be quick enough and a levy should be introduced to encourage gardeners to use peat-free alternatives.
Peat-free
RSPB conservation director Mark Avery said it was "incredible that a product as hugely damaging to our environment as peat" was still being widely consumed in the UK.
"Despite attempts to tackle this issue in the 1990s, little has been achieved aside from exporting damaging peat extraction overseas," he said.
"Rigorous studies have shown that good peat-free composts work just as well. Kew Gardens is just one notable example of a peat-free garden which is thriving."
National Trust gardens have also been peat-free for the past 10 years.
A spokesman for the National Trust said: "We've spent time getting National Trust gardens to peat-free status and support any efforts to do this across the gardening industry and amongst gardeners."
Catherine O'Connell, chief executive of the Irish Peatland Conservation Council, said the levy was essential to protect the Irish countryside.
"Irish peat bogs are being torn apart to supply gardeners with their bags of peat compost," she said.
"A retail levy will help consumers to choose composts not on price, but on their relative merits."
The campaign is also backed by Plantlife, Butterfly Conservation, Buglife and compost suppliers Vital Earth.