Bank of Ireland rules out fees for NI customers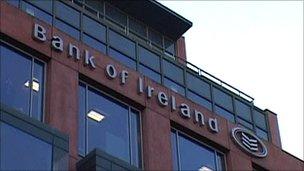 Bank of Ireland has said it has no current plans to extend new banking fees in the Republic to NI customers.
Most account holders must deposit 3,000 euros a quarter and make at least nine payments by phone or via the internet.
Alternatively, they must keep a minimum of 3,000 euros in their account. Customers who do not meet conditions will be charged 28 cents a transaction.
A spokesperson said it was committed to fee free banking in the UK but this was always under review.
The Free Legal Advice Centre in the Republic has described the move as "unfair and ill-considered", claiming people on low incomes will not be able to avoid the charges.
The bank said providing customers with current account facilities costs it money.
Related Internet Links
The BBC is not responsible for the content of external sites.