McGurk's bar bombing - A dark night in the darkest time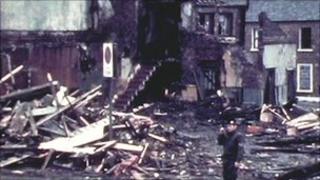 Even by the dark standards of Northern Ireland in the early 1970s, the bombing of McGurk's bar in north Belfast in December 1971 was a particularly horrific atrocity.
On a dank Saturday night, the family-owned pub, near the mainly Catholic New Lodge area, was packed with people socialising.
They were attempting to maintain as normal a life as possible in an increasingly troubled city.
Then, at a time when the pub was at its busiest, a bomb ripped through the building which collapsed in on top of the people inside.
It was the single devastating bomb attack in Northern Ireland before the Omagh atrocity.
'Keep bitterness out of it'
Like that attack, it claimed the lives of men, women and children, including more than one generation of the same family.
The bar owner Patrick McGurk lost his wife, Philomena, and his 14-year-old daughter, Maria.
The other victims included another child, two women and two pensioners.
In the wake of the attack, Patrick McGurk, who like his three sons was seriously injured, appeared on television and called for no retaliation.
"It doesn't matter who planted the bomb. What's done can't be undone," he said.
"I've been trying to keep bitterness out of it."
The community's distress was exacerbated by what happened in the immediate aftermath of the bombing.
The police gave briefings to the media and local politicians, asserting that the attack was a republican 'own goal'.
The Guardian reported that some of those in the bar were IRA members and it had been their own bomb which had exploded.
Just a few days after the attack, Northern Ireland minister for home affairs confirmed that this was the establishment view.
"The evidence of the forensic experts supports the theory that the explosion took place within the confines of the walls of the building," he told a debate at Stormont.
'Extraordinary additional pain'
His account was contradicted by the evidence of eight-year-old Joseph McClory, who gave a clear account of a man placing the bomb in the porch.
The truth of loyalist involvement only emerged gradually, culminating in the conviction of Ulster Volunteer Force member Robert Campbell in 1978.
Survivors and families of those who died believe that the initial failure to identify loyalists as responsible meant that the investigation was far from comprehensive.
For many years, they have campaigned for the state to acknowledge its failures.
They achieved some of their aims in 2008 when the government apologised for its part in the disinformation.
It said it was sorry for "the extraordinary additional pain caused to both the immediate families and the wider community by the erroneous suggestions made in the immediate aftermath of the explosion about who was responsible".
The report by the NI Police Ombudsman, who has the power to investigate police conduct in 1971, could prove another step in the survivors' and relatives' campaign for justice.