Attwood unveils north Belfast regeneration plans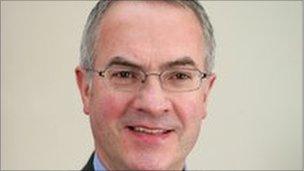 The Social Development Minister has promised to "transform" the northside of Belfast city centre with a host of regeneration projects.
Alex Attwood's plans include a website for developers to declare their interest in vacant sites in the area.
The minister also wants to create a new public square at the junction of Little Donegall Street and Library Street.
"I am determined that Belfast will not be left behind when the upturn in the property market arrives," he said.
"My department will consult with all key stakeholders and community representatives in the northside to take on board their views as we roll-out these initiatives."
Mr Attwood announced details of the plan on Tuesday.
Along with a new public square, the minister will also commission a design for a comprehensive regeneration scheme for the gateway site at the junction of Carrick Hill, North Street, Peter's Hill and Millfield.
The cost of the two regeneration projects will total £160,000.
"These are initial steps towards attracting private investment into a part of the city centre that has been neglected and was badly hit during the troubles," Mr Attwood said.
"The area holds the potential to benefit from the sort of investment we have seen in the Cathedral Quarter, Royal Exchange and the York Street campus of the University of Ulster."