Council ban for outdoor dance music at King's Hall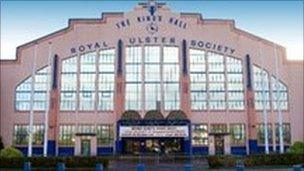 Open air dance music events at the King's Hall in south Belfast have been banned by Belfast City Council.
The Licensing Committee at the City Hall made the decision on Tuesday night following complaints about a Planet Love event last September.
The committee placed new conditions on the King's Hall outdoor licence, including the dance music ban.
A Planet Love event due to be held at the King's Hall in December was moved to the Ulster Hall.
SDLP councillor Niall Kelly, who chairs the Licensing Committee, said he had been to observe the Planet Love event in September.
"I was there on both days and what I saw shocked me," he said.
"People aged between about 14 and 26 urinating in people's gardens and climbing over walls and fences.
"Hopefully, this decision will bring respite for the residents of South Belfast."
Planet Love was previously held on the Shane's Castle estate outside Randalstown and attracted similar complaints about the behaviour of some of its patrons.
A spokesperson for Planet Love said it had not had any plans to hold another gig at the King's Hall.
"We decided that the King's Hall wasn't really appropriate for the kind of event we hold so this decision will not really have much of an impact on us," the spokesperson said.