'Lucky' the swan survives pylon crash in Derry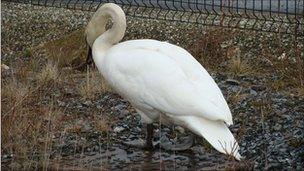 A swan has had a lucky escape after flying into an electricity pylon in Londonderry.
Security guards at Brickkiln Waste in Maydown found the disorientated bird in their yard on Tuesday morning.
Neil Green, from the company, said he believed the swan had flown into a nearby pylon and named it "Lucky".
"We just heard this thump and then we saw this white thing on the ground," he said.
"The swan was just lying flat on its back on the ground. We gave her some bread and she came around and started walking about.
"We called the vet and he said she was disorientated. She also had a cut on her beak.
"The vet couldn't catch her to get a closer look but she seemed to have got back on her feet."
Mr Green called the Royal Society for the Protection of Birds but Lucky has since recovered and flew off just a few hours after crash landing.