NI pensioners not claiming benefits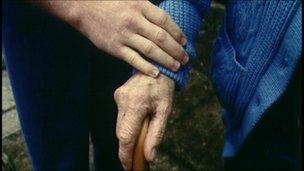 Pensioners in Northern Ireland are not claiming the benefits they are entitled to, according to an Audit Office report.
It found one in five pensioners in NI are living in poverty.
The report found that while everyone over 65 receives a state pension, means-tested benefits, like pension credits, are more difficult to access.
Age NI said the only way of ensuring that nobody misses out is to test the eligibility of every pensioner.
The Audit Office report looked at the situation across the UK and found millions of pensioners are missing out on entitlements like housing benefit and rates relief.
Deirdre Heenan, a Professor of Social Policy at the University of Ulster, said filling out lengthy and complicated forms is a problem for many older people.