Fermanagh-born painter TP Flanagan dies at 80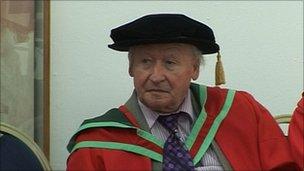 Tributes have been paid to one of Ireland's foremost landscape artists, TP Flanagan, who has died at the age of 80.
The Fermanagh-born painter won many awards and commissions for his work.
He also inspired Seamus Heaney's poem Boglands and was described by the poet as having earned a cherished presence in a generation of Irish artists.
Known as 'Terry', the painter was born in 1929 and brought up in Enniskillen.
He began studying art under a local teacher, Kathleen Bridle (1897- 1989), before going to the Belfast College of Art.
On leaving the college he began working both as a teacher and a painter for many years, in turn influencing a generation of Ulster painters.
He was also an academician of the Royal Hibernian Academy and a past president of the Royal Ulster Academy.
The father-of-three and husband of Sheelagh, celebrated his 80th birthday in 2010, the same year he received an honorary doctorate in fine art from the University of Ulster.
Brian Kennedy, former head of Art at the Ulster Museum and TP Flanagan's biographer, said his passing was "a serious loss for the art world in Ireland".
"He was quite simply one of the finest landscape artists of his generation and I think beyond a doubt the finest watercolourist of his generation working in Ireland," he said.
"He was principally a landscapist, but his view of the landscape was not to go out and make a painting of what he saw in front of him, his approach was to make numerous drawings of the landscape, to visit it several times and then to produce maybe somewhere between a dozen and 20 paintings to produce a theme as it were."
Mr Kennedy said the subject matter of Mr Flanagan's work was the distillation in his own mind as to how he saw the landscape, he painted "the impression it made upon him rather than the visual impact of what we might see".
Mr Flanagan was a friend of the Nobel-prize winning poet Heaney.
The two men took a holiday together with their families in the late 1960s at Gortahork in County Donegal which proved inspirational.
Mr Kennedy said it was "a very rewarding period for both of them".
"Terry would be off making paintings and Seamus would be with him getting ideas for his poetry and for both of them it was kind of a turning point in their career. Terry's first major paintings came about as a result of that trip," he said.
While initially hesitant about painting the Irish countryside because so many of his predecessors -Yeats, Tom Carr and Paul Henry - had already said so much about it, Mr Kennedy said the painter had made the landscape his own.
"He gave us a new way of seeing the landscapes of County Fermanagh and Sligo, where he spent much of his childhood, such that it's almost impossible to visit those areas and not see the landscape through his eyes."
Related Internet Links
The BBC is not responsible for the content of external sites.