Belfast machete robber jailed for 7 years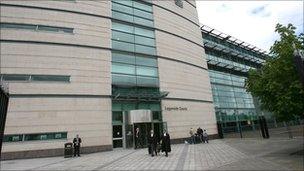 A man who held a machete to a customer's throat during a bank robbery has been jailed for seven years.
Belfast Crown Court heard on Wednesday that 29-year-old Brian McKeown walked into the Northern Bank on Victoria Street on 7 April 2009 and as he approached the cashier, he pulled a hood and scarf over his face.
Prosecuting lawyer David McAllister told the court that McKeown pulled out a 12 inch knife and shouted at the female cashier to fill a bin liner with money.
As she did so, McKeown pointed the machete at a male customer and threatened that, if the man moved, he would "cut his ear off".
He then reached over the counter to grab cash from the till while "brandishing the knife" at the woman.
The lawyer said McKeown then told the customer to turn around and took him by the back of the neck "frog-marching the customer to the door". The lawyer added that McKeown told the man if he did not open the door he would "cut his leg off".
Outside the bank, a dye canister inside the cash bag exploded, "rendering the money effectively useless".
As he ran off, McKeown dropped his coat, the knife and the bag of money.
Those items, said Mr McAllister were sent for forensic examination and officers recovered numerous samples of McKeown's DNA and fingerprints.
He was arrested on 8 June 2010.
During interviews McKeown, from Woodside View in the Poleglass area of west Belfast, initially denied the robbery.
However, when the scientific evidence was put to him, he confessed, remarking to police "how much of a scumbag is that" when shown the CCTV footage.
He later pleaded guilty to offences of robbery and common assault.
Defence lawyer Joel Lindsay told the court that, at the time, McKeown had no money and was being chased for rent from his landlord. He said he had committed the robbery in desperation.
"It smells and stinks of the absolute desperation of a man when one looks at it," claimed the lawyer, adding that it was rather unsophisticated given that he was not masked and had "looked directly into a camera" on his way in.
Handing down the jail term, Judge Tom Burgess said McKeown had made a "determined" effort to rob the bank, subjecting the staff and customer he used as a shield to an "extremely traumatic experience".