Police appeal on Doherty murder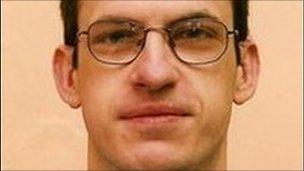 Detectives investigating the murder of 31-year-old Kieran Doherty in Londonderry have issued a renewed appeal for information on the first anniversary of his death.
Mr Doherty was found shot dead on the Braehead Road in an attack which has been claimed by the Real IRA.
Detective Chief Inspector Ian Harrison said progress had been made but "not enough to bring charges".
"There are others who know who killed Kieran," he said.
"Kieran had been in the family home at Coshowen until about 8pm on the Wednesday evening of 24 February when he went out.
"The next sighting of Kieran we have is when a passer-by found his body on the Braehead Road around 10.40 pm.
"We want to speak to anyone who was on that road anytime from 8pm that evening and saw anything suspicious or who knows of Kieran's movements after he left his home."
Detective Chief Inspector Harrison added that he was aware there had been "speculation" since the murder about how and why Kieran met his death, but he said "speculation was not evidence".
"I need evidence to bring charges and get justice for Kieran and his family," he said
"Information from the community, not speculation, will help police to build an evidential case."
Anyone with information on what happened to Kieran Doherty is asked to contact detectives at Maydown.