Limavady Actor in Hollyoaks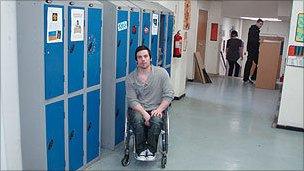 Limavady actor and wheelchair user Peter Mitchell has just made his first appearance as Pete Hamill in gritty Channel 4 soap Hollyoaks.
He previously appeared in Cast Offs, a late night drama about a fictitious reality television show which stranded a group of disabled people on a desert island.
As Peter said, he sometimes feels like his life has been a bit of a soap itself.
"It's a rollercoaster ride," he said.
"I left home when I was 16 to play for Leeds United and it ended tragically for me. If you'd have told me then that I'd be acting, let alone be in Hollyoaks, I'd have signed you up for a nut house.
"Everyone watches TV and everyone would love to be on TV, but it's something that I never thought I would get the opportunity to do. Then I heard about Cast Offs and they wanted specifically a paraplegic character. As soon as I heard about it I just had one of those feelings that, wow this is just meant to be, I have to get this part."
Going for the Cast Offs role was the first time Peter had ever auditioned.
"I wasn't even in a school play," he said.
"I hadn't worked since my accident and I thought if I'm going to work again it has to acting. This is just far too good an opportunity, I have to go to London, I have to audition for this part."
The accident Peter talks about was a car crash in July 2002. He was with Leeds United at the time and it was to change his life dramatically.
"It was a normal Sunday and I was just back in Leeds two weeks," he said.
"We were in pre-season training and we were going to the shops, me and three of my team mates. On the journey back we crashed the car. Unfortunately for me I was injured quite horrifically."
However, that accident opened a new chapter in the Limavady man's life.
"What an achievement to do Cast Offs, I thought this is just a one-off and I'm going to love it" he said.
"It was very hard work. There were days we were filming for 14 hours and then you're going back to your hotel and you learn your lines for the next day. I was literally getting six hours sleep a night, it was draining but so worth it."
That was in 2009 and since then Peter has been plugging away at developing his acting career. He has appeared in an episode of Doctors and is also making his first foray into film.
"It's called the The Best Years, but I haven't finished doing it," he said.
"If I get a chance I will go back to Ireland and finish that off, but we'll see what happens here first."
In the meantime the 26-year-old will continue playing head teacher Pete on Hollyoaks, which he said is "a dream come true".
"The writing has been excellent and there's been no poor Pete," he said.
"Pete's in a wheelchair but he's a very strong character which is absolutely fantastic, it makes it a lot easier for me to play.
"They welcomed me with open arms and they've been more than helpful."