Firm's collapse to cost Bank of Scotland Ireland £36m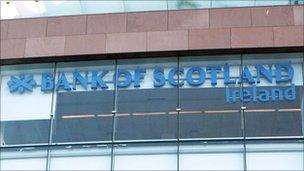 The collapse of a County Down property company is set to cost Bank of Scotland Ireland £36m.
Network Trading Group Ltd was based at Bridge Street in Banbridge.
It was placed into administration last year with the administrator warning the value of the properties was significantly lower than the bank debt.
Now a statement of affairs estimates that the bank is owed £43.5m, but that the sale of the properties is only likely to raise £7.3m.
That will mean a £36m loss for the bank, a write-off amounting to 83%.
Bank of Scotland Ireland (BoSI) was a major lender to developers during Ireland's property bubble.
It suffered catastrophic losses as a result and has been closed by its parent company, Lloyds.
BoSI's loan book is now being managed by a company called Certus.