Double murder accused Stewart not to give evidence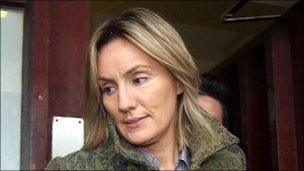 Hazel Stewart, the woman accused of a double murder, will not be giving evidence in her trial at Coleraine.
Mrs Stewart, 47, denies murdering her husband, Trevor Buchanan, 32, and her former lover Colin Howell's wife, Leslie, 31, in May 1991.
The jury was told on Thursday that closing submissions would be heard next week after which they could expect to retire to consider their verdict.
Howell is serving a 21-year sentence after he admitted his guilt last year.
Police originally thought Mr Buchanan and Mrs Howell died in a suicide pact.
The investigation was re-opened in January 2009 after Howell admitted that he gassed them and then fooled police into believing they had taken their own lives.
Earlier in the trial, police interview tapes were played in which Mrs Stewart admitted she was part of a plan to kill her husband but insisted she wanted no part in it.
The jury heard how she encouraged her husband to take a sleeping tablet on the night of the murders.
She denied giving him the drug, but admitted that sedating him was also part of Howell's plan.
They also heard that Mrs Stewart destroyed a garden hosepipe which was used to gas the victims while they slept.
As well as cutting up and burning the hose on an open fire, she washed and replaced bed covers in the room where her husband was poisoned.
She also opened the window to get rid of carbon monoxide fumes and fetched clothes which Howell used to dress her husband before driving him off in a car with his dead wife.
The trial was adjourned until Monday.