Father convicted after 'shaken' baby left brain-damaged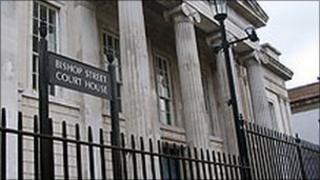 A County Londonderry man has been convicted in the city's Crown Court of causing grievous bodily harm to his 18-week-old son by "baby-shaking".
It is believed to be one of the first convictions of its kind in a Northern Ireland court.
Robert John Anderson, 26, whose address cannot be made public and whose baby cannot named by order of the court, was found guilty by majority verdict.
Among other injuries, the baby is now permanently blind and brain-damaged.
Anderson's guilty verdict followed a five-and-a-half week trial held in the absence of the media.
He was also found guilty of cruelty to his baby son by neglect.
The media was allowed to be present for both verdicts.
As a result of injuries sustained in the incident, on 16 December, 2008, the baby can only respond to noise, is unable to speak and has multiple disability and mobility problems.
After the jurors returned the guilty verdicts, Anderson and members of his family - including his partner, who is the mother of the baby - wept.
He was refused bail and will be sentenced on 24 March.