Firefighters attacked in Antrim and Belfast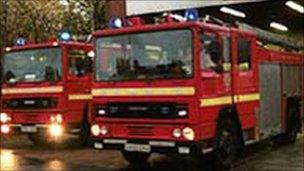 The fire service has said children as young as six were involved in attacking fire crews on Sunday night.
Up to 40 stone and bottle throwing youths, mostly teenagers, attacked crews in north Belfast's Oldpark area.
Two other incidents occurred at Castle Way in Antrim. No-one was injured but fire appliances were damaged.
The fire and rescue service said that fires were deliberately set to draw firefighters into the areas.
Brian McClintock of the fire service said those involved should consider the implications of their actions.
"Quite apart from the fact that some of our officers could be injured, there's the fact that it's tying fire appliances up possibly even damaging them to the extent that they're not available for genuine emergencies elsewhere.
"If these young people thought about it it could actually be members of their own family who could be at risk, who may need the services of the fire crews," he said.