Northern Ireland prison report to be published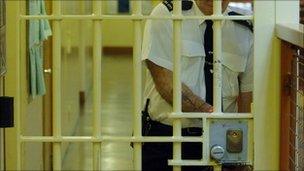 A report on Northern Ireland's prisons is to be published on Monday.
It is expected to recommend radical reform, including the need to cut costs, which could mean major redundancies.
Justice Minister David Ford has made prison reform one of his priorities.
One of his first acts as minister was to set up a prison review team.
The team's report will be published at 1200 GMT in the Assembly.
It was initially asked to focus on Maghaberry prison, but its terms of reference were then extended to include the entire prison service.
There will be few surprises and it is expected to reflect criticisms contained in a series of inspection reports over recent years.
Much of the attention will focus on possible job losses and the size of the prison service in Northern Ireland.
David Ford has already said publicly that there will be redundancies.